Pictures with Bios
Please look through these 40 bios and pick out which players you would like in the band playing for your event. Yes, you can literally go down the line and put together your ideal band.
This feature has never been offered before by anyone as far as we know. But don't worry, I can help you pick out players if you get stumped by so many great choices. Part of it will depend on what genre you like best. If you want jazz standards then the options are unlimited because all these guys play great jazz. On the other extreme, if you want Hawaiian music the choices are limited because we only have a few players who are expert at Hawaiian songs.
These people are amazing!!! You really can not go wrong with any of them.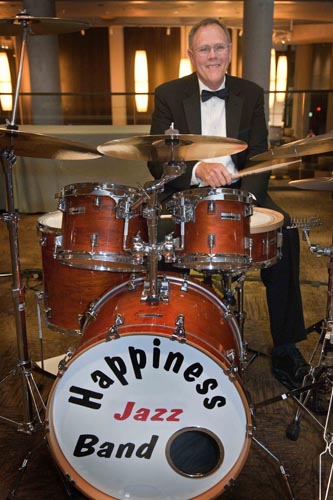 Band Leader, Drummer, Percussionist
I've been playing a drum set and bongos and congas forever!
My claim to fame is that I get to play regularly with the other performers in this bio section. This is an amazing honor and privilege! Just read what these artists are all about. They are astounding!
And I get to perform with them. So cool!
Bob Sullivan, Happiness Band Leader
Victoria is a bonafide Hollywood starlet and a knockout singer.
She sings wonderfully, but it is her whole history of experience as an all around entertainer that makes for the perfect package known as "Victoria."
Read More About Victoria
Born in England, she honed her craft as a singer, dancer and actress while attending the prestigious Arts Educational School in London under a scholarship.
Victoria came to America in 2012 and landed major movie roles including playing Julie Andrews opposite Tom Hanks in Walt Disney's "Saving Mr Banks" and as the love interest in Paramount's "Transformers: Age of Extinction," plus many other stage and screen roles.
When she takes the stage to sing everyone in the room is struck by her stunning star power. 
She is an extraordinary class act!
Talk about star power! If you want to blow your guest's minds, bring in Carmel!
Carmel has spent more time performing for audiences of 5,000 to 50,000 people than anybody I know.
Read More About Carmel
She has collaborated on live performances will Miley Cyrus, Billy Ray Cyrus, Michael Bolton and Sheryl Crow to name a few. And she has performed solo in big music festivals all over the USA and France.
Carmel writes and records her own music and just released a CD, "New Frontier," through Shatz Music Group in Nashville.
Also, you can hear her voice on a zillion commercials and TV and film sound tracks.
Carmel is the consummate singer and entertainer. She really gets an audience going!
Karla Kelly is a superb vocalist, a dancer, a composer, and a voice over expert.
She has spent decades perfecting these crafts.
But it's her singing that brings her to our stage repeatedly. She has a song list hundreds of songs deep that range from Roaring 20's to the latest Katy Perry hits.
Read More About Karla
She never, never, never hits a wrong note and she always sounds full and wonderful.
Karla sings in English, Spanish, French, Italian and Hebrew (for Jewish weddings, etc).
She is a bandleader's dream because she can sing anything and sing it perfectly!
We call on her when a gig has to start with soft jazz for dinner and end with current rock/pop hits for hard driving dancing.
Bobby's bio should be the size of a book—and actually a biography of his life in music is being written.
We call him "The Legendary Bobby Pierce" because he is a living legend of jazz.
Read More About Bobby
He toured with Sonny Stitt, played with all the greats and even hung with Miles Davis and John Coltrane. But he also taught jazz at universities for years.
Bobby was Jazz Organist of the Year in France a while back. Jazz lovers fall apart when he plays the organ or piano.
Bobby's singing is so damned earthy and warm, like Ray Charles and Louis Armstrong.
Ya gotta hear this legend sing and play! He is the real thing.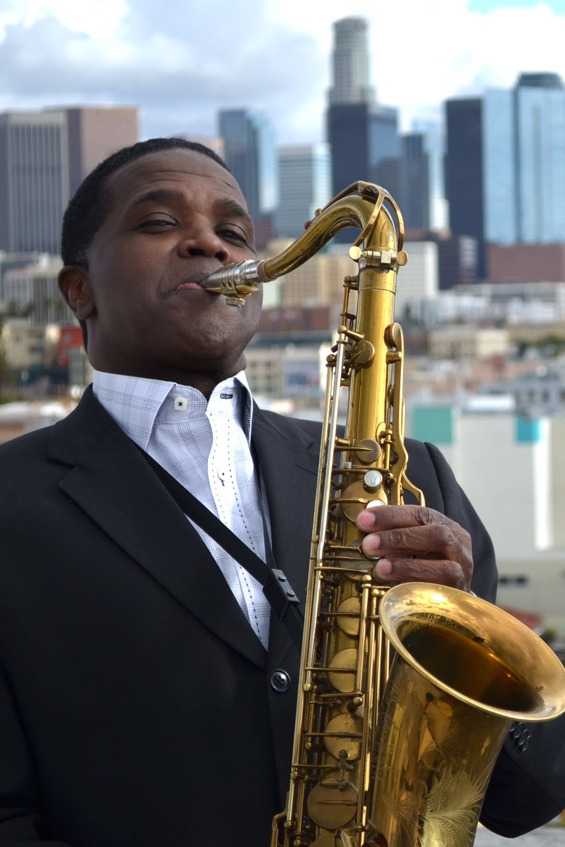 OMG! This bio could be three pages log and list dozens of big names. But here are the essentials:
1—He toured with Ray Charles for seven years (even married a Raylette).
Read More About Ricky
2—He performed and recorded with Frank Sinatra, a lot.
3—He performed and recorded with Ella Fitzgerald. He played with EVERYBODY.
4—He has the biggest tenor sax sound in the world.
End of story.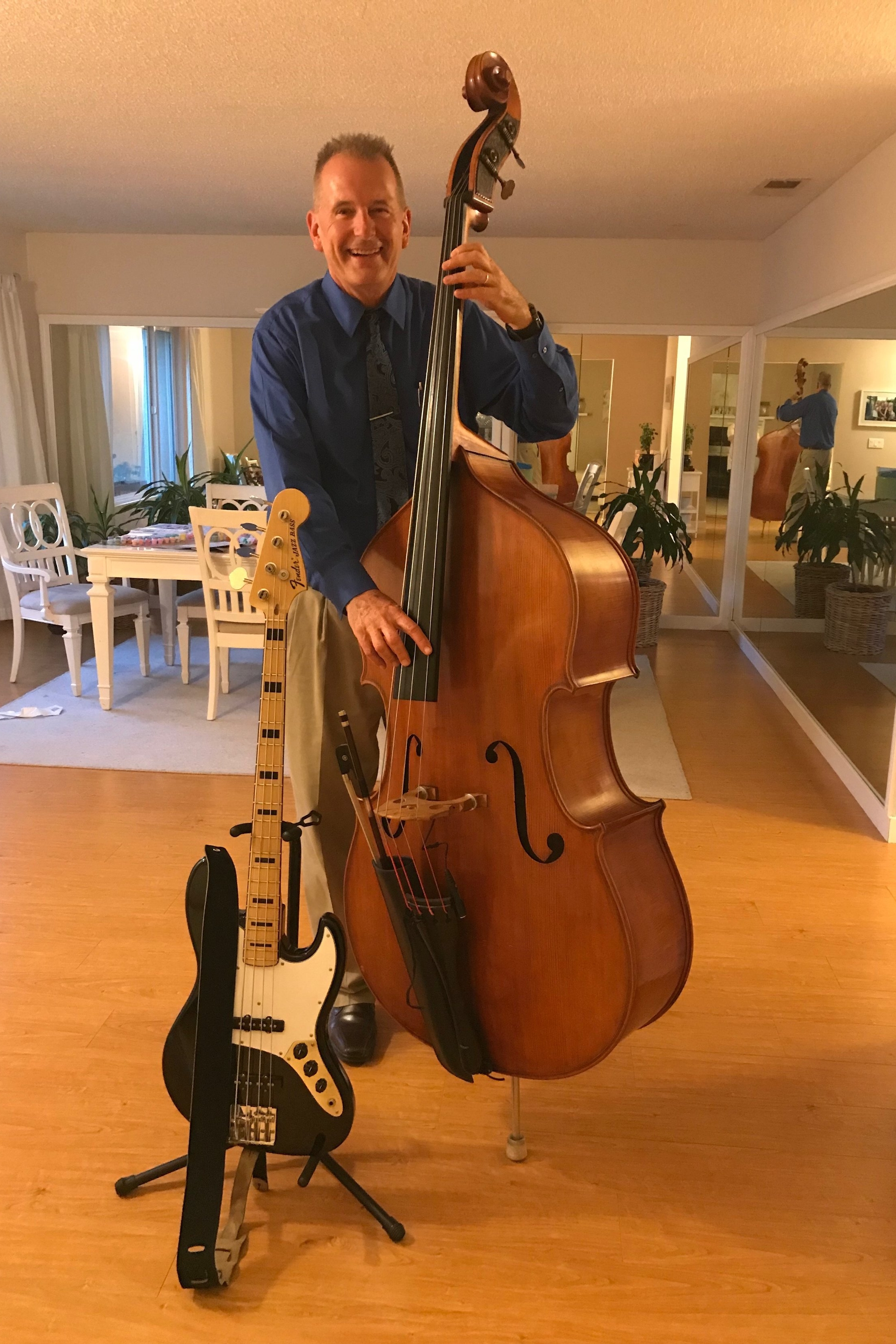 Upright bass and electric bass
Roman Sirwinski has been playing both upright bass and electric bass-brilliantly-for forty years.
He received extensive classical training and has performed with symphony orchestras. On the other hand he toured with R&B star Oleta Adams for two years.
Read More About Roman
His favorite thing these days is playing with jazz trios and he is exceptional at that. He simple has fun with it and his style is uninhibited creation. Audiences love his playing.
Another of Roman's joys is the basses he owns. He has a 100 year old German made bass and a 200 year old German bass. You've got to hear Roman perform just so you can hear the quality of these vintage works of art.
I particularly love hearing his jazz solos played with bow. Roman and the Germans make the room sing.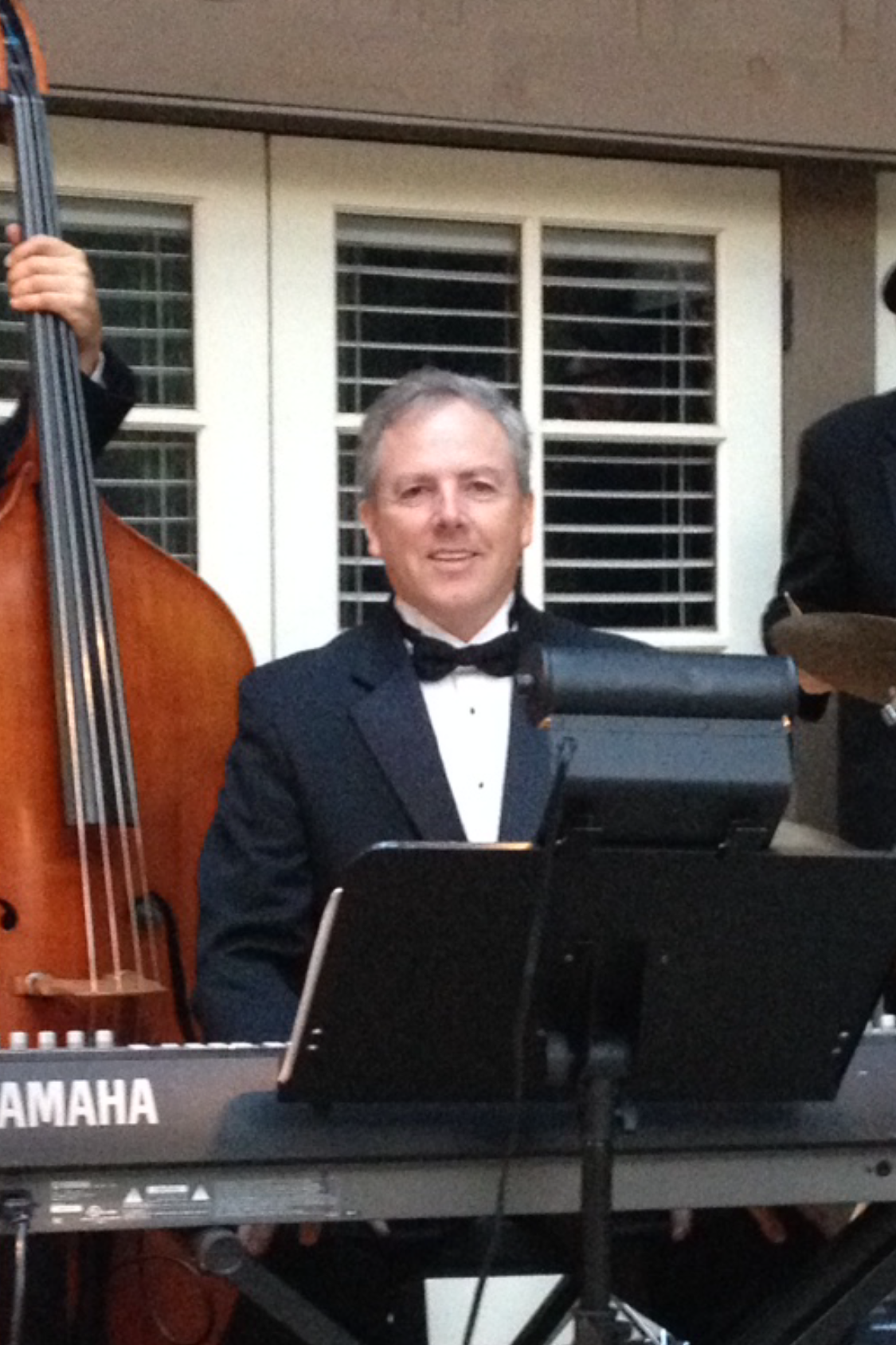 I love performing with Matt. We have played hundreds of gigs together and he and I and some of the other regulars fit together like a glove.
Matt's style is so relaxed and natural it brings a smile to one's face.
Read More About Matt
He performs beautiful music beautifully and with style.
Matt delights the listener with music without crashing anyone over the head.
Perfect.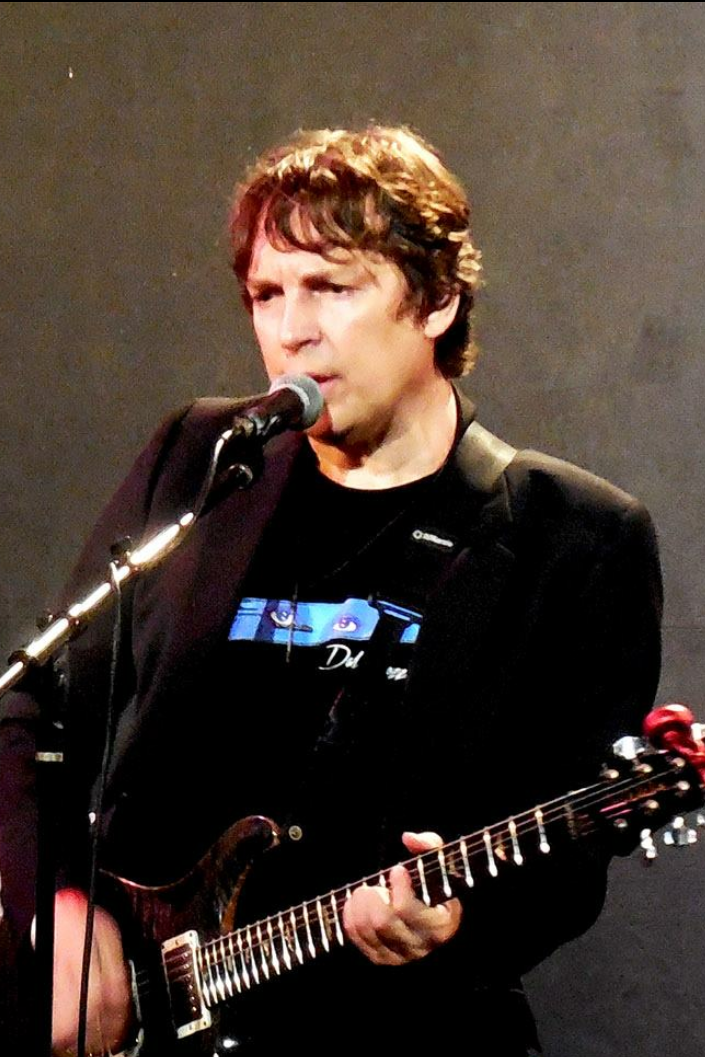 Karl graduated with a bachelor's degree in music from New York State.
Since he was 18 Karl has been touring the USA and world with big name acts, writing and performing on movie tracks, and appearing on TV and film.
Read More About Karl
His movie credits include working with Will Ferrell, Jennifer Live-Hewitt, Ben Stiller and many more.
He is currently a member of the iconic 80's band Missing Persons.
When he is in town he does corporate gigs with The Happiness Band. He plays all styles of music including current hits, classic rock, jazz, country and classical.
Karl plays and sings great and really knows how to set a beautiful atmosphere and/or get a party jumping!
Singer, Dancer, Keyboards
Jill Morrison has traveled the country as a singer, dancer, actress, and choreographer. She performed on Broadway, in the Tony Award Winning "Best Musical," MEMPHIS. She then performed on the National Tour of MEMPHIS for two years. Jill also traveled the country with the National Tour of Garry Marshall's Happy Days.
Read More About Jill
She has performed in feature films, television shows, industrials and commercials in both New York and Los Angeles. Jill has sung with various corporate, tribute and cover bands. She frequently sings in Linda Ronstadt Tribute Concerts (as Linda). She has also portrayed Madonna (Madonnathon Concert- NY), Marilyn Monroe, Patti Page and Barbie (for Mattel Events).
Jill is the Owner and Artistic Director of "And All That Jazz! Performing Arts Center" in Temecula. Her studio offers classes in singing, dancing, acting and acrobatics. She also plays live music (vocals/keyboard) regularly for local wineries, restaurants, casinos and special events. Jill covers nearly every style of music from the 40s to present!
Sax, flute, clarinet, piano
Jim Scimonetti is not only an awesome musician, he is an exciting entertainer.
To get the crowd going he'll take his Sax and dance into the audience, jump up and play on tables and generally go wild!
He can play two saxes at once better than just about anybody in the world. You've got to hear it to believe it!
Read More About Jim
He plays all the woodwinds plus piano and sings great.
He is classically educated and plays with fancy orchestras but he is just as happy to play jazz, blues, rock or pop with a small combo and dance on tables.
Jim plays all over So Cal and is also head of quality control at Beechler/ARP, a world leader in handcrafted woodwind mouthpieces.
Jim married his high school sweetheart (Lois) in 1969 and they gladly squander almost every cent they make on their grandchildren.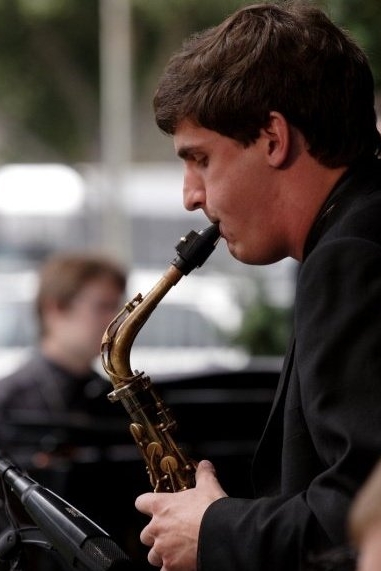 Saxophones, flute, clarinet and all woodwinds
Mike Mull is a real live professor of jazz studies at Cal State Northridge—which means he is pretty much the best of the best!
He just plays so great you've got to love every note whether he's playing one of the saxes, flutes or one of the clarinets.
Read More About Michael
Michael's big thing is jazz but he's just at home with pop, rock and funk and he even performs regularly with a Hungarian band.
He has released two CD's of his original music, "Formation"and "Source Code."
We call him "The Angelic Michael Mull" because he plays like he's from heaven.
Paul Litteral toured with The Rolling Stones for several years.
Do you have any idea how good of a musician you need to be to tour with the freaking Rolling freaking Stones!?!?!?
This guy is over the top.
Read More About Paul
He also toured and recorded with Robert Plant, James Brown, Pat Benatar, Joe Cocker, Ray Charles and everybody else! Geeezzz!
Paul has also played on many hit Broadway shows  and has won a zillion big awards as Musical Director for giant musical projects. Geeezzz!!
Craig Kupka is another of our guys with unbelievable music credentials.
He has a Masters degree in music from UCLA, has toured the world, recorded a zillion original records and played with everybody including Ray Brown and Dizzy Gillespie.
Read More About Craig
He plays every type of music and is known as one of the very top trombonists on the West Coast.
He was head of a highly acclaimed high school music program for decades and is currently a  Music Professor at Glendale College.
The guy is ridiculously talented!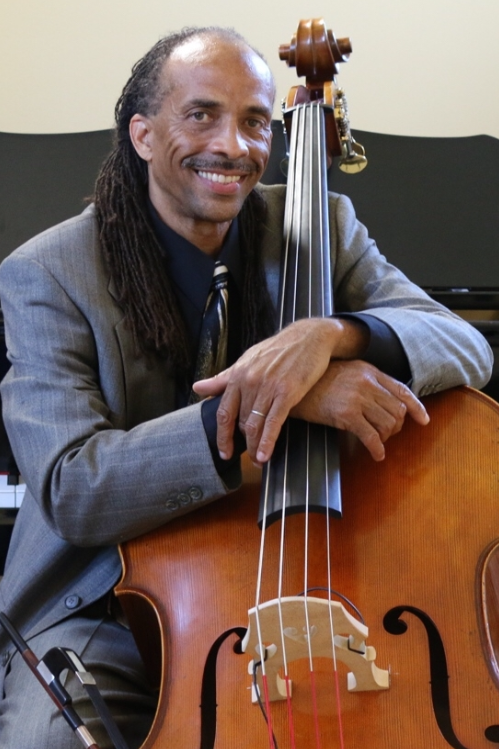 Upright bass and electric bass
Harvey Estrada is a sensational bassist.
He has performed and recorded with Stevie Wonder, Chaka Khan, Isaac Hayes, Sarah Vaughn, Horace Silver, Kendrick Lamar, Kanye West, Wayne Shorter, Etta James and Herbie Hancock.....to name a few.
Read More About Harvey
Geeezzz! To name a few!?!? Harvey is ridiculously amazing!
He works as a composer for films, television, etc, etc, and he is a music professor at Compton College and El Camino College.
Geeezzzzzz!! He plays ok I guess.
David Eastlee is the consummate jazz guitarist.
He can play rock and pop (he even toured with an 80's hair band for years) but he doesn't want to do that.
He just wants to play pure jazz and he does it perfectly.
Read More About David
He has composed hundreds of jazz songs and cut six original CD's to huge critical acclaim.
Go to his website to hear his CD's and see the many great reviews he has gotten from America's top jazz critics.
David also plays the standards and plays them lovingly. He sounds great with a big band, a trio, duo or as a solo.
Any way you hear him, David is one of the world's finest jazz guitarists, a true genius. More importantly, people love the beautiful atmosphere he creates—every time!
Upright bass and electric bass
Latif plays both upright bass and electric bass equally well—very, very well.
He lays down the perfect groove every time.
Latif graduated from The Faunt School of Music in LA.
Read More About Latif
The Faunt School teaches groove, groove, groove and you don't graduate unless your groove and rhythms are perfect.
Latif has been playing with all kinds of bands all over So. Cal. for decades. He plays it all. He is a monster of groove.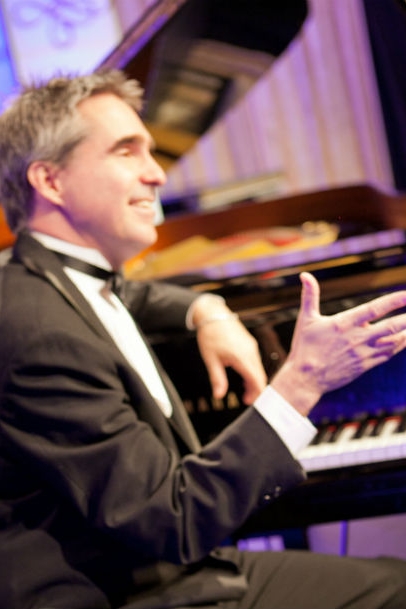 Marc Bosserman is the best entertainer I've ever worked with, and I've worked with hundreds!
Yes, he plays great piano and sings wonderfully, but his bigger mission is to reach out and brighten people's lives with music, make them feel better with songs they love; in other words, entertain!
Read More About Marc
He knows thousands of songs spanning all genres of music. And he'll learn any special request especially for you.
He does over 400 performances a year and when he is not performing he is composing music for TV and film, giving private lessons and producing music for singers and song writers in his own studio.
Marc is a performer with a unique ability to put a smile on anyone's face. He is a true entertainer!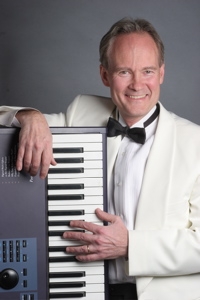 Pianist, singer, bass, DJ and emcee
Eric has done all of these things for decades and he is exceptionally skilled at all of them. Exceptionally!
For instance, you will hardly find a better announcer anywhere—or a better pianist—or DJ—or,or,or...
Read More About Eric
And he looks like a star. Well he is in a way, having appeared in numerous national commercials for Disney, Range Rover, PayPal, etc., etc.
But what I like best is his amazing creativity on the piano. Whether playing jazz or pop or oldies he just lets it rip and it's a joy!
He can and does play anything—very well.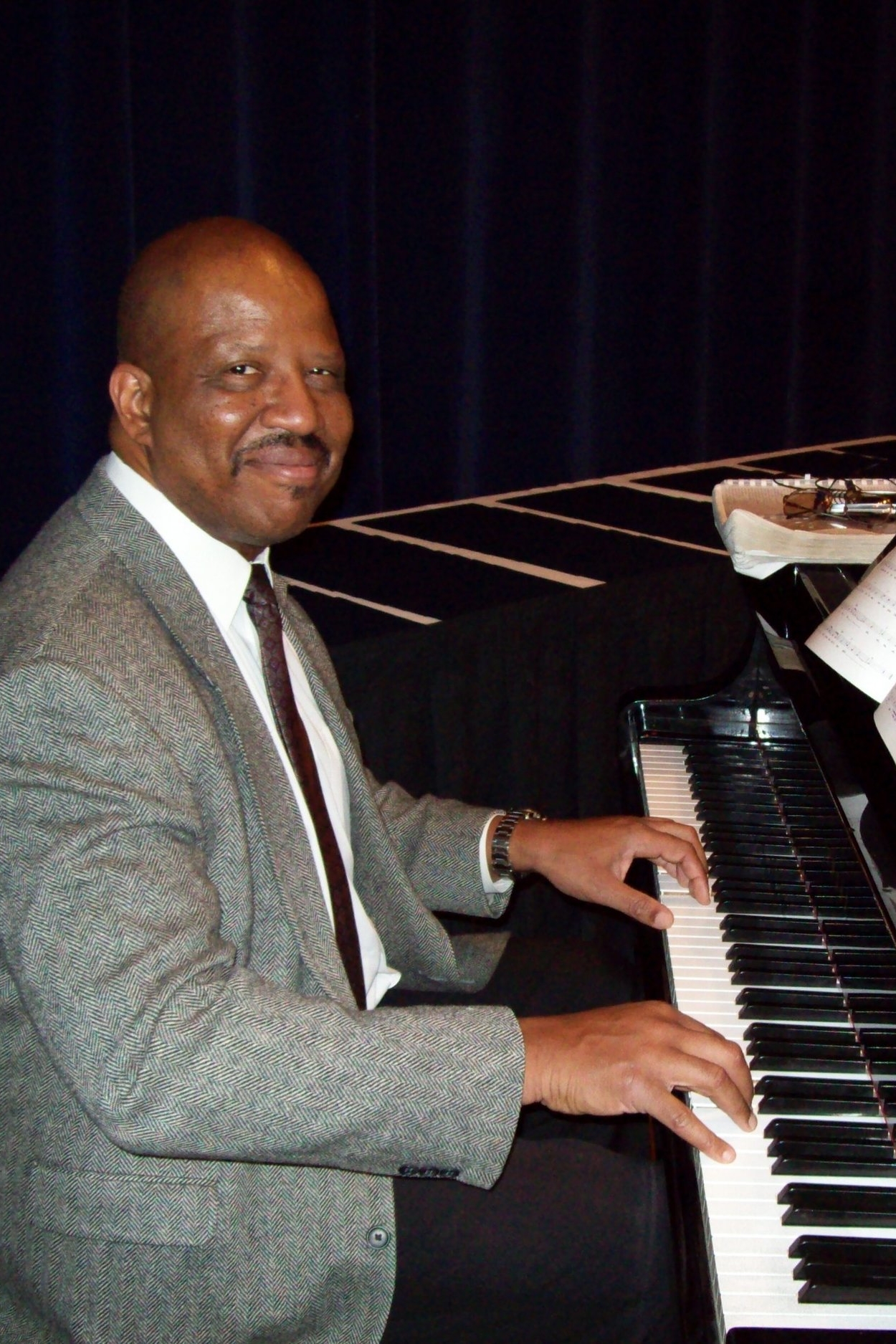 Roger Harrison is an excellent jazz pianist and his singing is so, so cool.
His playing swings hard and his singing swings even harder!
Read More About Roger
He is very fun to play with because he just swings his ass off all night long doing one beloved standard after another.
He has this Nat King Cole kind of thing going on that is so appealing and it sets just the right atmosphere for any mixer or reception.
He is cool.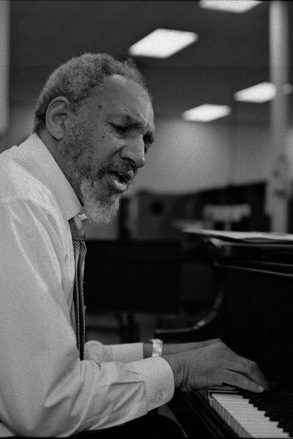 Billy Gee is another one of our masters of jazz who has been performing professionally for over 50 years. In fact, he received a Masters degree in Jazz from the Boston Conservatory and taught music in the LA school system for decades.
Read More About Billy
He has performed with Marvin Gaye, Sly Stone and Gladys Knight and The Pips to name a few.
If you want a jazz pianist/singer who brings the real thing, ask for Billy Gee!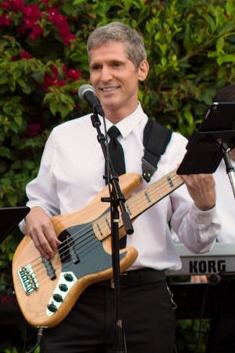 Keyboards, bass and vocals
Rex Perry is multi-talented indeed.
He plays all the keyboards including the hand held keyboard ("the keytar"), plays great bass and is an excellent singer.
Read More About Rex
He has his own recording studio where he composes and produces music for TV and film.
He has performed all over and even once performed for the Emperor of Japan.
He plays just about all styles of music and is really quite extraordinary.  
Gustavo was trained in Cuba at their famous University of Music and on the streets of Havana.
He is a genius of Latin jazz, all types of Latin music and all types of jazz. He is the real thing.
He even plays all the popular cumbia songs that are such a hit at Hispanic dance parties.
Read More About Gustavo
We often send him out with his Cuban musician buddies to deliver the real Latin goods.
Sometimes we will embed him in one of our cocktail bands that plays classy dinner music, but then when it's time to dance Latin, Gustavo turns up and the place goes wild!!
If you want Latin, he's the man!   
Mitch Talevi got his musical education at Berklee College in Boston and has been singing and playing for over 40 years.
His command of the instrument is world class and he has played with members of Spiro Gyro, Billy Cobham and Blood Sweat and Tears.
Read More About Mitch
When he sings he sometimes uses a high tech device that splits his voice and makes him sound like a whole choir. This effect added to his truly incredible guitar playing just blows the audience away!
No guitar player or guitar lover can listen to Mitch without being amazed.
He plays all styles but you've got to hear his Steely Dan, Earth Wind and Fire and Stevie Wonder covers. They are soooo cool!
Bass player and sound man to the stars
Joe Hesse has been playing electric bass since before the beginning of time. He has toured extensively and recorded with some great bands and he plays all styles of music.
But what makes him such a hero on bass is his rock solid groove. Playing with Joe is like being rocked back and forth on an unstoppable river of rhythm. You just flow with it and enjoy the moment. He is something special.
Read More About Joe
Joe also owns more electric bases of more different kinds than any large music store. And he plays them all, from a little bitty thing the size of a ukulele up to a six string bass that weighs more than he does.
And his expertise with sound is unparalleled. He toured with Chick Corea for eight years as road manager and helping with sound equipment. After that he established his own sound company which has become world class at providing sound equipment and sound engineering for some of the biggest music productions in California. His company is MSS Audio Services. Check it out at mssaudioservices.com  
Larry Williams has been performing professionally for over 40 years. He graduated from the University of Pittsburgh's music program and then graduated from the world famous Musician's Institute in Hollywood.
He never hits a bad note and always plays beautifully and inspirationally.
Read More About Larry
He's also a gifted musical director and composer and has worked with Maxine Nightingale, Edgar Winter, Stanley Turrentine and a bunch of others.
His guitar solos are works of art.
Wendy is a true pro who is constantly working with all sorts of bands and playing all sorts of music.
She is so strong on bass that I've heard her rescue a band and carry the song forward while the rest of the band was about to lose it. Rarely do you hear a band follow the bassists as the strongest performer on stage, but that's Wendy.
Read More About Wendy
She is highly trained and has played with lots of stars but she has dimensions even beyond that. Wendy works regularly singing in Hebrew at Jewish religious services.
And even more: She does one-man-band shows for children's parties where she costumes up and leads the kids in singing and dancing and everyone has a wonderful time of it!
Wendy is truly multi-dimensional and very special.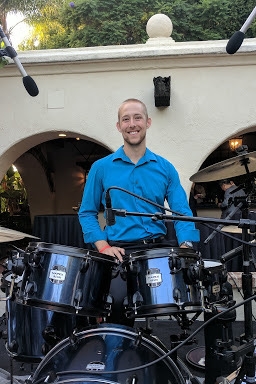 Tyler Ryan is the boy wonder, the boy genius.
He has studied drums seriously and played professionally for many years, so he really isn't a boy—except compared to some of us.
He is a super talented drummer that plays almost any genre amazingly well!
His background includes being the Captain of the UCLA Drumline for two years.
Read More About Tyler
You have to be an incredible talent just to get in the Drumline, but to be its Captain is beyond the beyond!
I'm telling you, the kid is ridiculously smart. He finished his Masters degree in Mechanical Engineering at UCLA in nine months (nobody does that)! JPL scooped him up but he got bored with those fogies in a few months and quit to start his own software company.
JPL wants him back but he has funner boy genius stuff to do including launching a free online drum course drumanywheremethod.com to teach people how to play drums anywhere in the world without needing a drumset to do it.
He always gives an energetic performance with an irresistible smile that audiences love.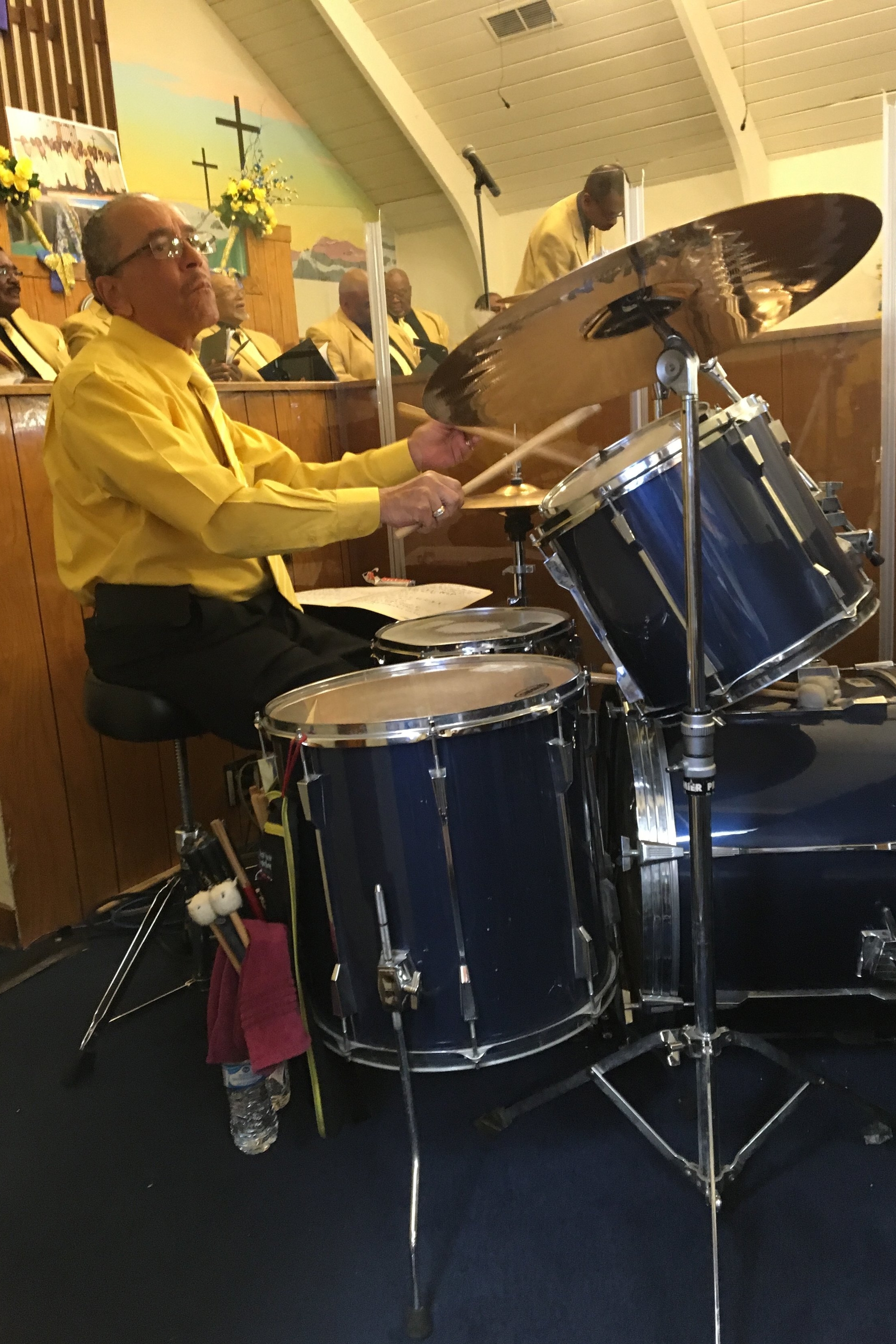 Ed Mosley has been playing professionally for over 50 years. He is a drummer's drummer and has played with everybody including Ike and Tina Turner, Little Richard and Al Green.
Ed is expert at all genres and when he plays he lays down that perfect feel that makes you smile and then dance.
Jerrell Ballard is one of LA's finest drummers. He has played with many recording artists such as The Temptations, The DeFranco Family, Linda Hopkins and The Marvelettes.
He is really good!
Sax and all woodwinds. Actually, he plays everything!
Kelly has a PhD in music! He specializes in Sax but he plays EVERYTHING. And he plays GREAT! You gotta hear this guy play!
He is head of the music department in his hometown at Twentynine Palms Junior High School.
Read More About Kelly
He also plays with all sorts of pro bands and he has recorded with The Temptations, Jay and the Americans, Big Bad Voodoo Daddy and many others.
He and his wife Rebecca (who is also a PhD music educator) just had their first baby, Ella.
Jesse played first chair tenor sax in the prestigious Crescenta Valley High School Jazz Band.
And now that he's a sophomore at Cal State University Northridge he is studying solo techniques under Professor Michael Mull.
Jesse plays with us often and always does a great job.
Read More About Jesse
He'll get up there in the horn section with a bunch of old super pros and hold his own all night long. And he's a lot cuter than them old effers!
There's a great story behind how he got his tenor sax. His grandpa Gary was kicking around a farmer's estate sale in Idaho and found this old sax for $350. Gary knew Jesse needed a sax for college so he bought it and shipped it down to him. We were thinking, "Oh swell, an old beat up sax found in a barn." Well , it turned out to be a 1948 King saxophone, one of the best saxes ever made, worth about $8,000.
And it sounds fabulous!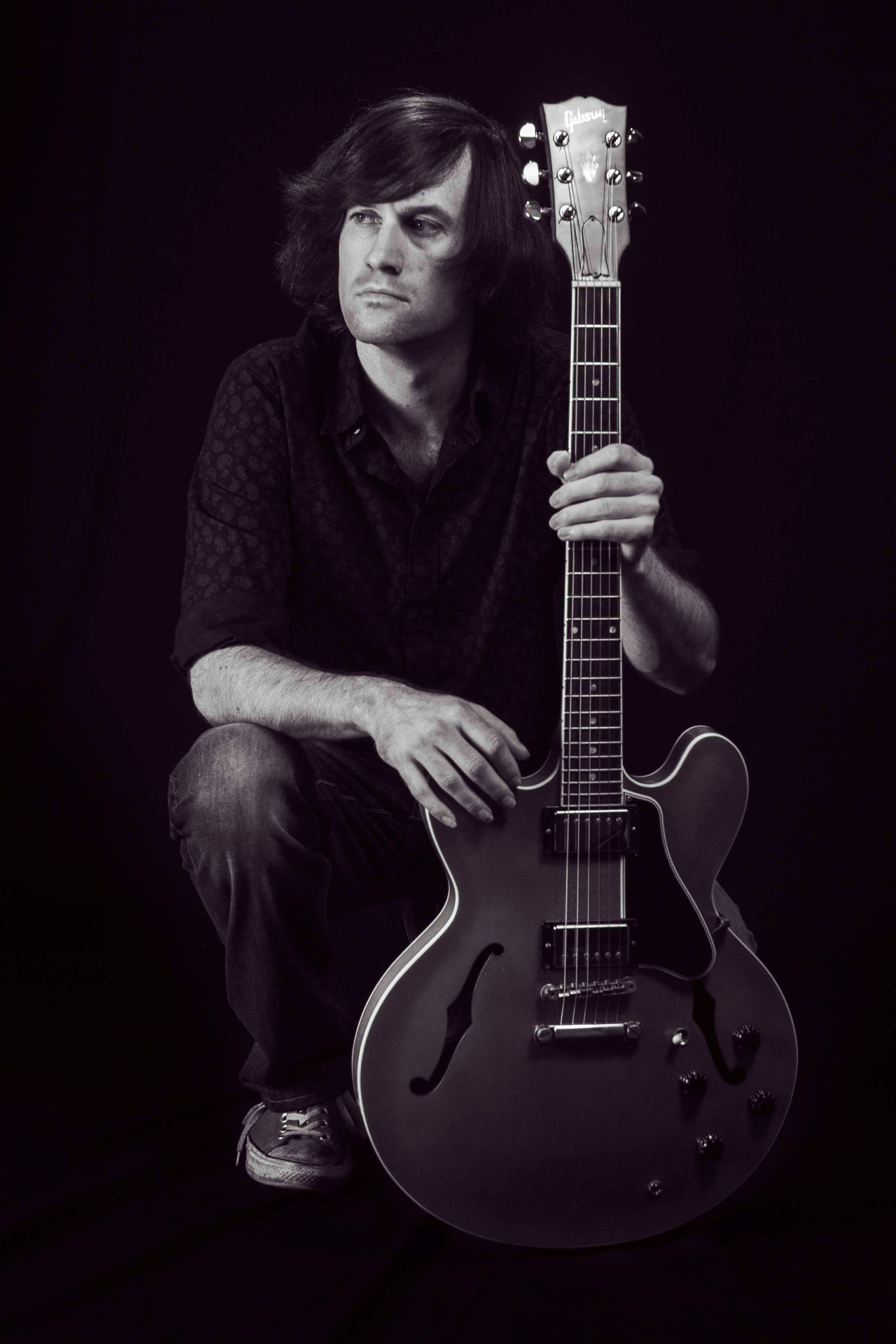 Andy Waddell is an extremely versatile guitarist. His main thing is jazz but he does equally well playing rock, pop and everything else.
Recently he played with one of our soft jazz atmosphere trios and did absolutely wonderfully. A week later we had him with a big, booming pop band and he rocked the house in perfect style.
Read More About Andy
Over the last few years he has written and recorded two jazz albums ("Sunset to 7" and "Alive") which received wide acclaim and high rankings on the international jazz charts.
Andy's newest album "The Road to Nowhere" is an alternative folk/rock original creation that is already getting good air play. You can Google "Andy Waddell" to hear about his latest musical adventures.
John Eberhard does it all. He is a really good drummer, pianist and singer and he also does full DJ services.
Sometimes we have him play drums for part of the night and then switch to DJing when it's time for the serious dancing. This can save the client quite a bit of money.
Read More About John
He could literally play solo piano and sing for the cocktail hour, then play drums with a combo and emcee for the dinner hour, then turn up the DJ music for dancing.
He's a one man everything, and like I said, this can be very cost effective for the client.
John was educated at the Berklee College of Music and has been playing professionally for over 40 years.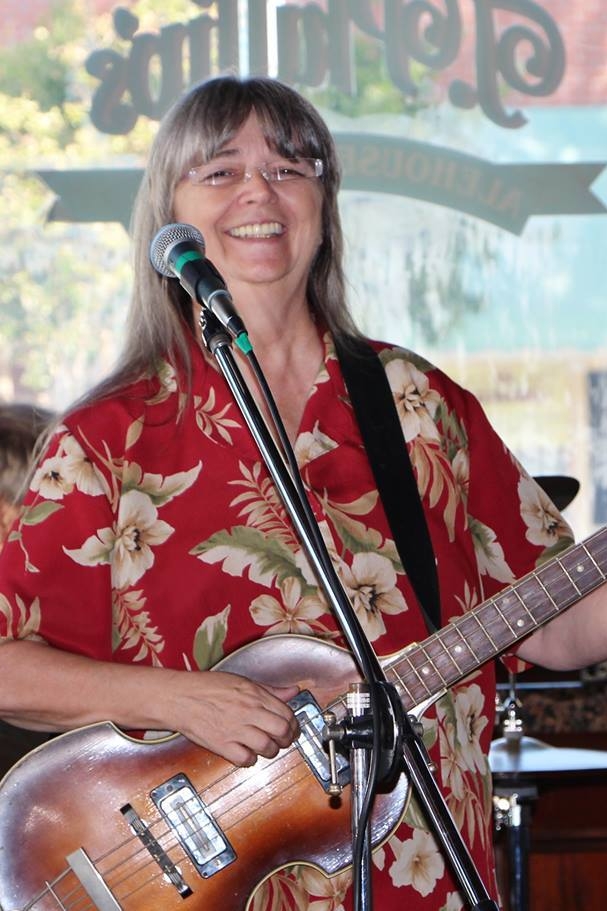 Bass, guitar, ukulele and vocals
Cherie has been a professional performing musician and musical director for decades.
She also has a successful career teaching bass, guitar, ukulele and voice.
She's really good!
Read More About Cherie
Cherie is expert at a wide variety of genres including rock, blues, country, Hawaiian, pop and jazz standards.
I call her "Miss Versatility!"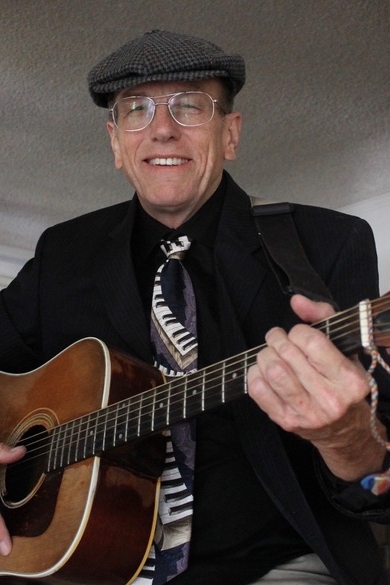 Guitar, Ukulele and Vocals
Randy Rivera made his living for over a decade performing solo as a guitarist/singer/song writer in restaurants all over Southern California. And that ain't easy! He really developed a terrific style of singing and playing that captures an audience and wins them over.
Read More About Randy
He also won various awards for his song writing including  "Best Song of the ASCAP Supersongs Showcase".
Randy is equally good as a soloist or as the featured entertainer with one of our bands.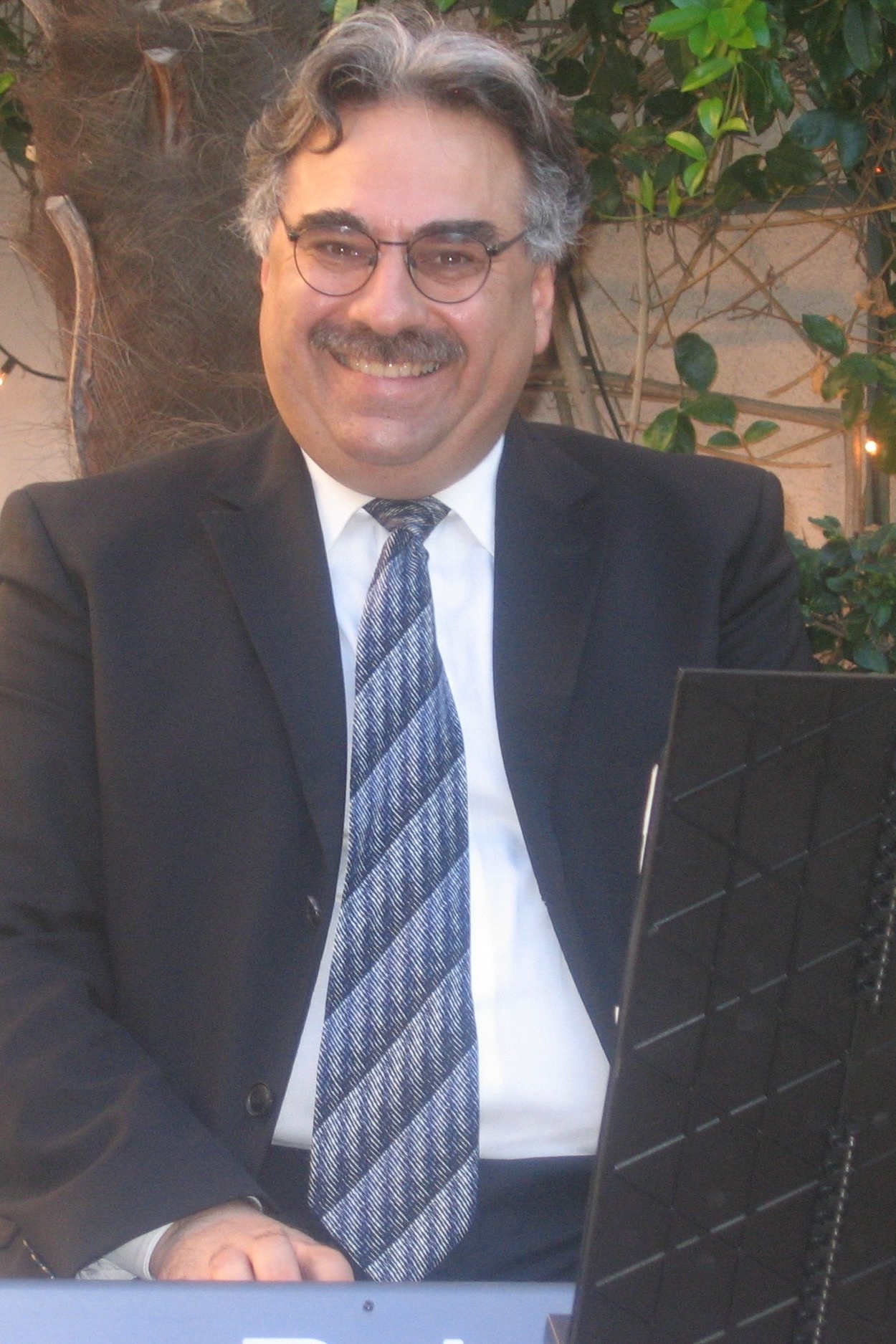 Mark Simonian was raised in a family of professional musicians, with a father, uncles and aunts who toured with big band orchestras.
He started his musical career playing with a very successful quartet that his father lead in LA for years.
Read More About Mark
Mark currently performs many diverse musical styles including jazz, blues, rock, folk-rock, R&B, oldies, country and even authentic Hawaiian music throughout Southern California.
He is definitely Mr. Variety and can always be counted on for an excellent performance.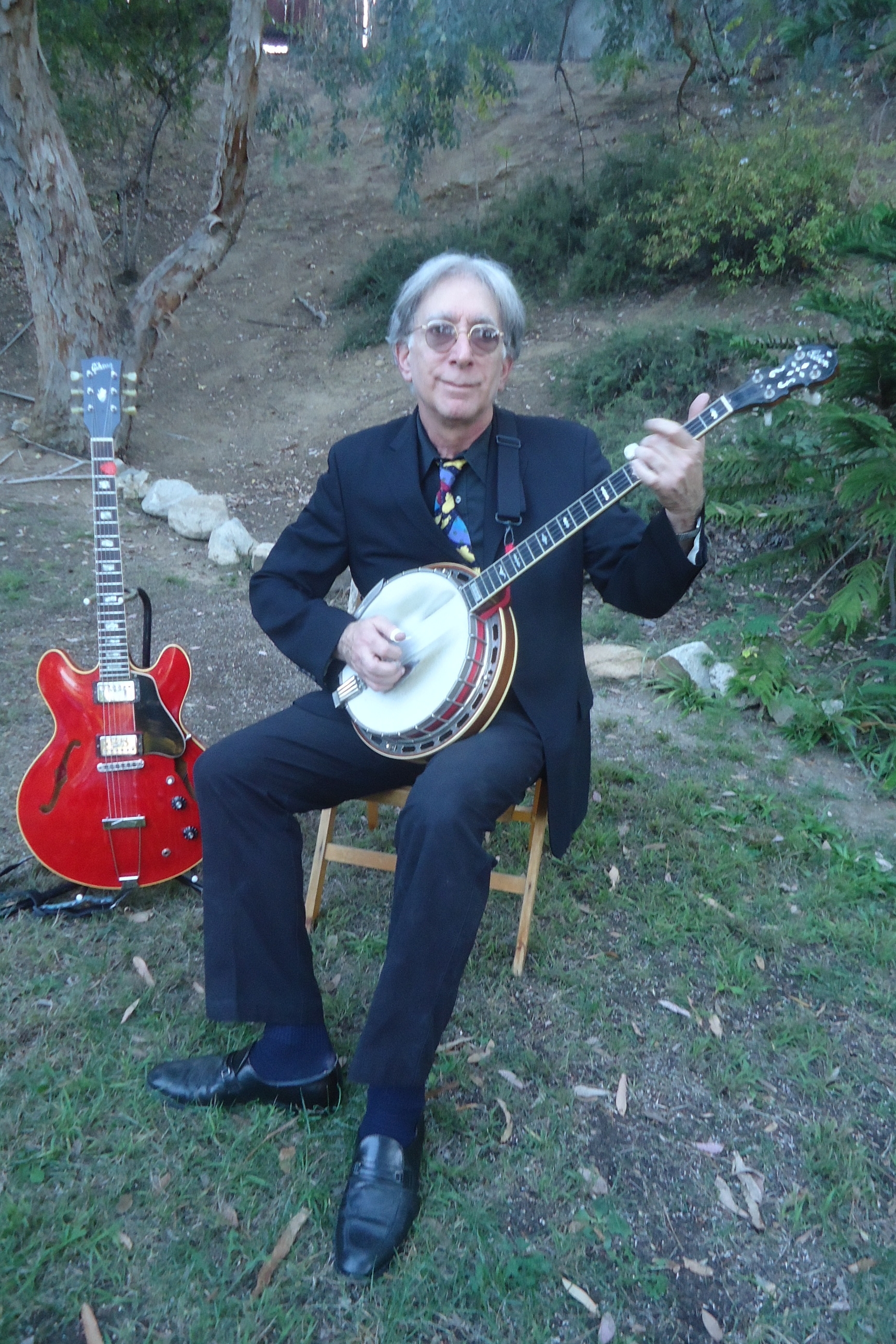 Guitar, banjo and harmonica
Bob plays a mean guitar, an evil banjo and a wicked harmonica!
He plays with our variety band when we get a call for:Bluegrass, Country, Hawaiian, Beach Music, Blues, and Oldies Rock.
Read More About Bob
He writes songs, too, and has gotten air play in places as far ranging as California, Illinois and Slovenia. Slovenia!??
His day job is being a mathematician at a world renowned aerospace laboratory. No joke! And we often tell him that playing banjo isn't rocket science. But he still talks to us anyway.